Hi Friends! Today was a busy and interesting day. Woke about 5:00, kissed Melissa and Regan on the forehead and hit the road from my cousin's house. The first 3+ hours was interstate south on I-5. There was no other practical way to get where I needed to be. Once off the interstate, I turned to head to the pacific coast line and 101. I was on a beautiful 2 lane windy road when I saw a building in the middle of the road ahead. It was an agricultural inspection station. A first for me. They waved me through not realizing the spores that I had been collecting were hidden in...wait, that wasn't me. That was a movie I saw last month.
As I closed on the coast, I kept seeing elk crossing signs and soon after, I passed a large herd of elk in a pasture. I had to take a shot.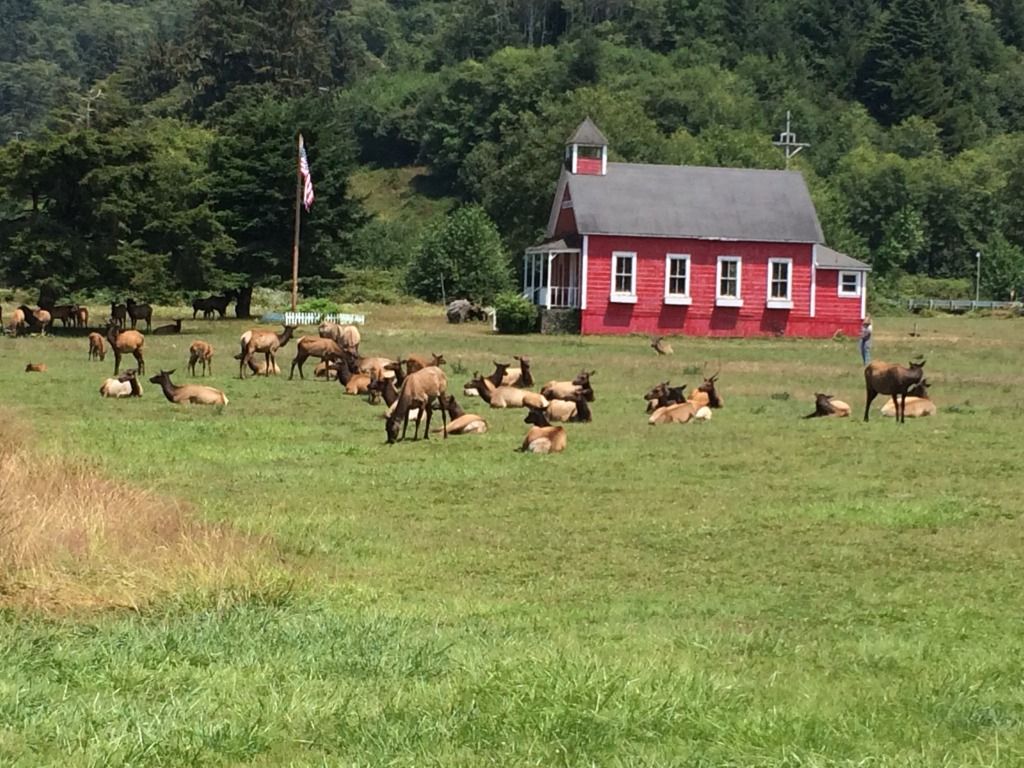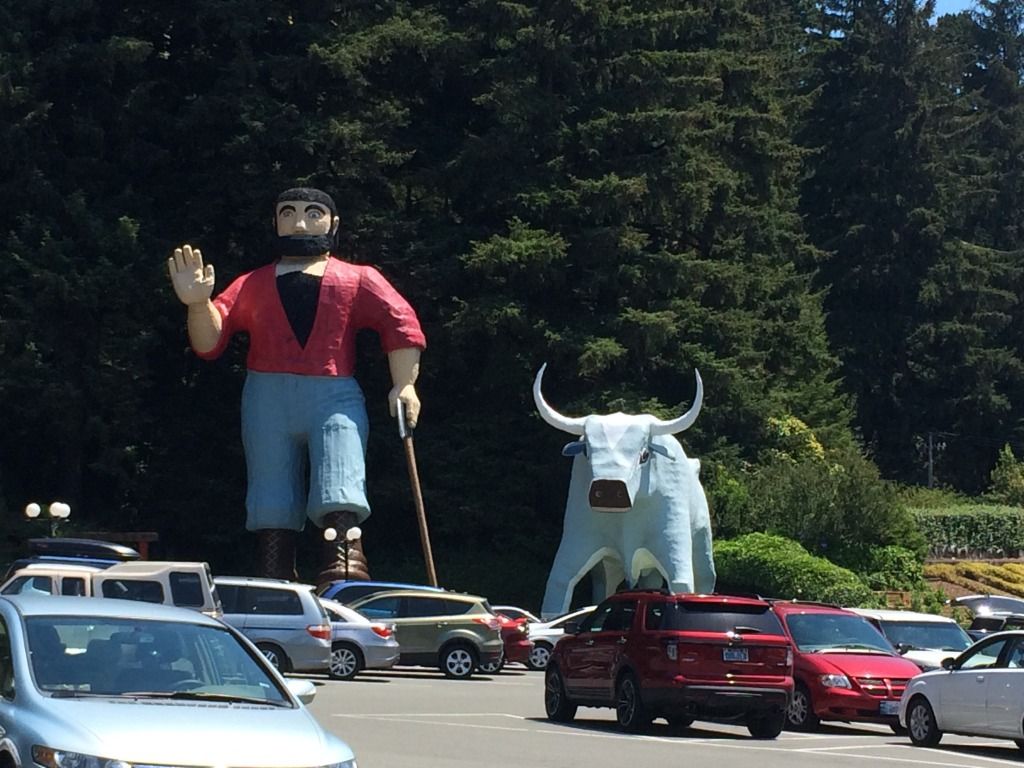 I'd like to stop and add that mentally and physically, I feel great. no worries. The temperature had been running in the mid 70's because it was early. each mile is warmed a few degrees and then reversed itself to hit a low of 53. The smokey mist from the ocean blew in thanks to at least 30 mhp winds. I had to pull over to add a layer. The ocean was amazing. There is something so wild about a coastline and this one is alive! Gusting winds and fog, three that look as if they are bent sideways. It's a landscape in motion.
I would leave the coast for an island stretch and the temps would raise 15f. Really amazing to experience. I am now in the land of the sequoia. Whereas I hiked to find a grove at Ranier, here they are abundant. These trees must be seen I person to appreciate.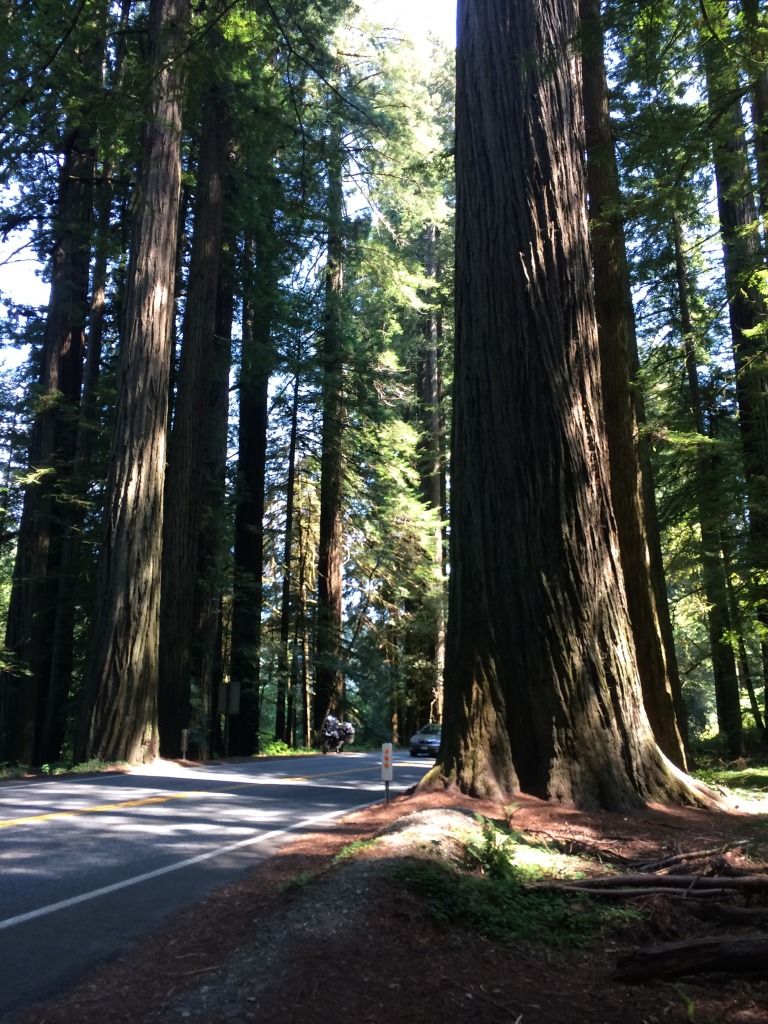 I hit the busy town of Eureka with plans to. Cut off and find a gem I had researched. A place called the hidden coast. It's a small road that run along (I mean 15ft off) the ocean. To get there, you have to navigate 30 miles of farm roads so there are no cars once there. You can ride along the coast for almost an hour and not see anyone.
Here lies the problem! Melissa texts me and asks, "have you got my ID and passport?". Brakes!!! Holy crap! I look and find Melissa and Regan's ID and passports in my bag from a trip we took in Seattle. Ok, I'm 8 hours into my way home and they are flying back early on Thurs. It is Tues. I call Melissa and tell her to get in the car and start south to meet me. I have an idea but don't know if it will work.
I ride back 30 minutes to Eureka and find a FedEx. With 20 minutes to spare, they tell me they can overnight it to arrive by 8:00am tomorrow. $64 but I don't care! I call Melissa and she turns back. crisis averted. Whew!
I just checking itto my hotel worn out and running late but happy. I discovered that I left my netbooks power cord at my cousins so I am now using my ipad to update this blog. Forgive any typing errors. With luck, all mistakes and errors are in the past and the delivery arrives on time.
Till tomorrow my friends,