Woke up again at 3:30. What can I say. Pulled out of Tucumcari in the dark and got to watch the sunrise over New Mexico. It was well worth getting up at the crack of dawn. New Mexico is littered with wind turbines. I was amazed how many there were. I didn't get a picture because I knew the scale wouldn't come though but these are very large. I looked it up and they are 525 feet tall!
I crossed the Continental Divide and decide to get a picture.
I still have a feeling of apprehension. I wish I could shake it and don't know where it is coming from. I know I'm ready for it to get the hell out of here so I can loosen up. Part of it was what comes next. My knee was tweaked from yesterday. I iced it last night and took meds and it improved. I was in Durango getting gas and my kickstand got caught on a metal cap used to cover where they fill the gas tanks. The bike went down. It was so heavy, I almost couldn't get it back up. I knew it wouldn't hurt the BMW, it can take several punches and keep on going but it still needed to be picked up and finally I got it. Knee re-tweaked!
I headed over to Ouray via US 500 which is an amazing ride and intimidating as heck, The temp dropped from 89 to 52 in less than 40 minutes. It began to rain. I pulled over and put all my rain gear on and took back off. Lighting bolts where shooting too close but there is nowhere to hide so I kept going. I only got one picture before I had to pack the cameras up in the dry boxes. This is an old gold mine flume and you can see the ice on the mountain tops in the background.When I hit rain, my iPhone goes directly into my motoPOCKET. No chance of it getting wet there.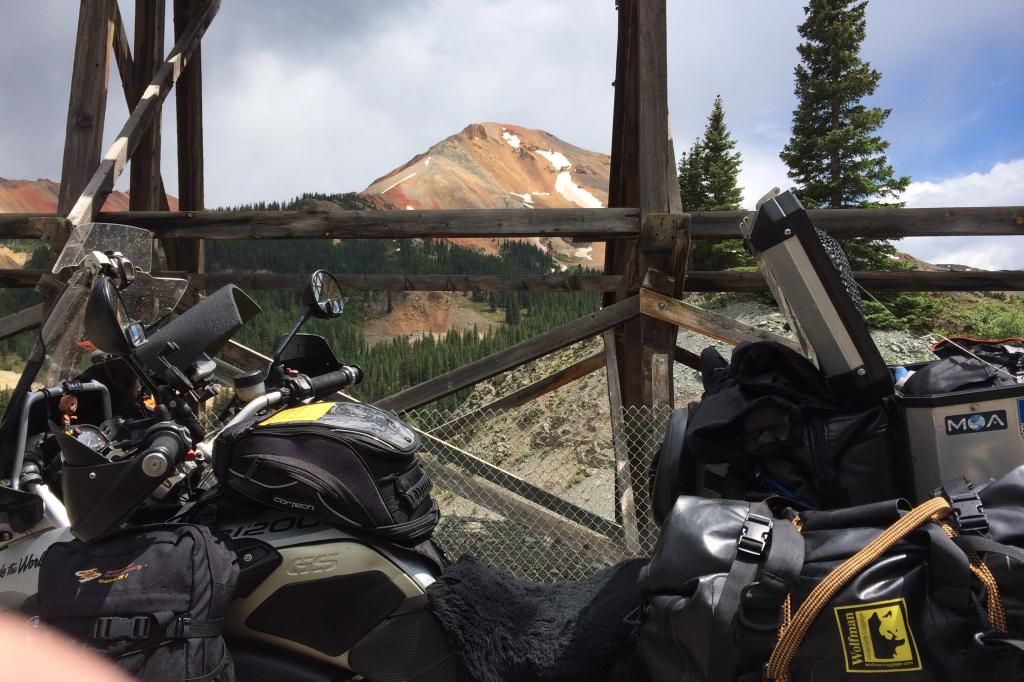 Finally I arrived into Ouray and got into the room. The rain came in earnest just after I finished unloading the bike. US 550 taxed me more than I expected. The sheer height of the rocks walls around me and the twists and turns all mixed with thunder storms have whipped me. I'm spent and am ready for a drink! I stopped off and grabbed a bottle of Klinker Brick Zinfandel, a wine we have on order back at the store. I can't wait to enjoy it. The view from my room. Now rime for a shower and trip to Ouray Brewery for dinner and a beer!